Centrifugal Pumps And Parts
250/178/118

Highest Quality Bearings Advanced front and rear bearing design reduces both radial and thrust loads. The outboard bearing is a duplex set of angular contact bearings with high thrust load capabilities and zero endplay. This bearing set features 24 large balls that are preloaded so that each bearing carries an equal load.
National Oilwell Varco utilizes an inboard bearing that is a single row roller bearing with high radial load capabilities. This bearing was selected to replace the previously utilized double row bearing due to its engineered bearing life of over 2.2 times the L 1 O life of previously utilized double row ball bearings.
Bearing Lubrication Options
Oil or grease lubrication is available. Grease lubrication is the factory standard. Oil lubrication is recommended for pump speeds in excess of 2400 RPM. Oil lubricated pumps must be maintained in a horizontal level position.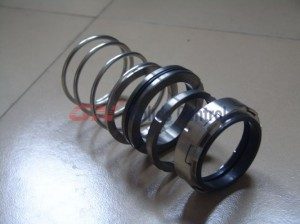 Mechanical Seal Options
A type I single tungsten carbide vs. tungsten carbide mechanical seal is standard. Tungsten carbide has proven itself as a highly abrasive resistant material with a Ph range of 7 to 14, depending on chemical composition. For applications with a lower Ph level the silicon carbide vs. silicon carbide mechanical seal is recommended with its Ph range from 0-14, depending on chemical composition. Both mechanical seals are lubricated by the fluid being transferred and require the pump to remain primed during operation.
When the pump is subject to high temperature fluids, oil base muds with low aniline points, running dry or extremely abrasive fluids, the Olympia'" cartridge type double mechanical seal is the solution. Utilizing a barrier fluid between the two seals ensures the seal faces remain lubricated even when the pump is run dry. The fluid being transferred has virtually no effect on the seal since the barrier fluid is in contact with the seal faces.
Custom mechanical seal options can be provided for specific applications.