Centrifugal Pumps And Parts
250/178/118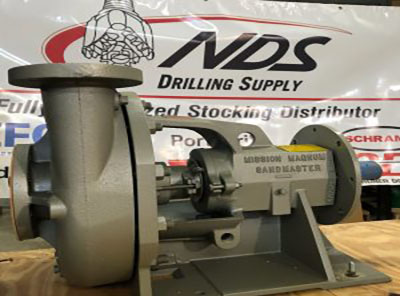 Sizes from 2X3x13 to 8X10X14

Flow Rates to 2,600 GPM

Pressures up to 250 PSI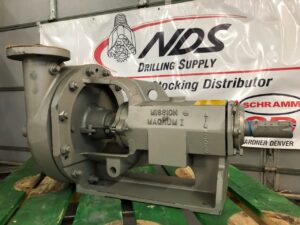 Sizes from 2X3x13 to 8X10X14

Flow Rates to 2,600 GPM

Pressures up to 250 PSI

Does not have round hydraulic drive adaptor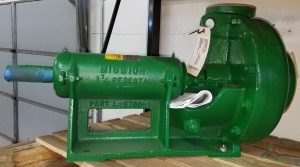 Sizes from 2X3 to 6X8

Flow Rates to 1,600 GPM

Pressures up to 170 PSI

Round-bodied gear-end frame

Available RH or LH rotation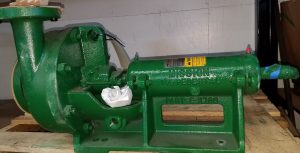 Sizes from 1X1.5 to 3X4

Flow Rates to 800 GPM

Pressures up to 150 PSI

Round-bodied gear-end

Available RH or LH rotation

Typically used in mud cleaning systems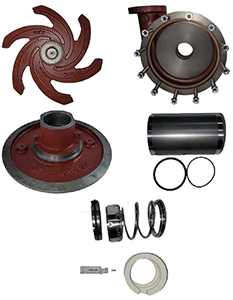 NDS Drilling Supply, Inc. carries a complete line of
Centrifugal Pumps
 and parts.  The compact
S series 118 centrifugal pump
 has a 1-1/8″ shaft diameter and is great for mud cleaning systems.  The medium duty
W series 178 centrifugal pump
has a 1-7/8″ shaft and takes on many average sized jobs.  The heavy duty
Mission Magnum centrifugal pump
has a 2-1/2″ shaft and offers the toughest bearings that are designed for the most rugged applications.  The Mission centrifugal pumps will interchange with MCM, Double Life, Halco, Harrisburgh, and Cobra pumps.  The 
mechanical seal pumps
 are designed for worry free use without the hassle of manually greasing the packing.
click here for centrifugal pump dimensions, flow charts, and sandmaster pump dimensions from catalog p 1-4
click here for Mission Magnum centrifugal pump flow charts and pump sizing information
click here for Mission Magnum parts, operation and maintenance manual
click here for Mission Sandmaster parts, operation and maintenance manual
click here for Mission S (118) and W (178) series parts list, operation, and
maintenance
manual
click here for Mission S and W dimensions and flow chart
click here for dimensions of standard SAE "C" four bolt hydraulic motor
We also offer an extra hard Chromoly fluid-end repair kit for Mission Magnum pumps,
(
Which is Available on NDS's Online Store
)
During the 1950's the Mission" 1780 type "W" pumps were introduced to replace duplex pumps while creating the first low pressure mud system. The use of a high quality concentric type centrifugal pump allowed abrasive fluids to be mixed and transferred while reducing initial and maintenance costs for the drilling industry. The low-pressure mud system with Mission 1 780 Type "W" centrifugal pumps became the industry standard.
As well depths increased so did the need for heavier mud weights. When the mud weight began exceeding 14 ppg the need for a pump that could withstand greater horsepower loads arose. During the 1970's Mission organized a design team that engineered the Mission Magnum. The Magnum was designed to have the same footprint, flange locations, and drive shaft diameter as the 1780 "W". This allowed a 1780 to be replaced by a Magnum without any skid modifications. The Magnums were originally engineered with a 2-1/2″ shaft (3″ between the bearings), double row bearings with an engineered life of over 2 years at 200 HP, larger impellers and heavier frames. The Magnum allowed drilling contractors to upgrade their centrifugal pumps and mix heavier fluids.
The National Oilwell Varco" Mission centrifugal pump line has proven to be the best centrifugal design for handling abrasive mud. This pump line offers a broad selection of innovative features for a variety of routine, demanding, abrasive and corrosive applications. These pumps are designed for a wide range of flow rates, from a few gallons per minute to thousands of gallons per minute.
NOV" is dedicated to continual improvement of our product line and offering innovative solutions to service our customers. Included in this manual are quality NOV products that have been designed to meet your needs. The future is being defined and the solution is available from NOV.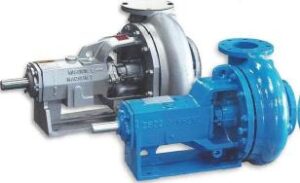 Features of the Magnum 2500 Supreme, and
Sandmaster Pumps
Each pump contains the finest materials, engineering and craftsmanship available in the industry. Described are like features of these pump lines and unique features are described on the following pages.
National Oilwell Varco utilizes unique design features developed for slurries. Three major differences from most pump designs include the concentric casing, wider impellers and increased re-circulation areas. Each feature contributes to reducing wear when handling abrasive fluids.
Thicker, Stronger, Concentric Casing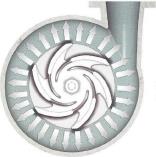 All of the pumps feature a concentric casing. This casing averages 37% thicker than conventional pump casings, and up to 50% thicker for the larger, mud pumping models. They are pressure rated at 1 .5 times the flange rating and are designed with a 1 /8″ erosion allowance. The concentric style casing has proven to offer the greatest pump life and reduced downtime. The walls of a concentric style casing are an equal distance from the impeller throughout the impeller circumference, which results in a smooth flow pattern. A volute style casing has a cutwater point that disturbs the fluid flow pattern creating an eddy. The concentric casing eliminates vibration, turbulence and aeration that is caused by the cutwater point in conventional volute pumps. It also reduces the high bearing loads and shaft deflection even at near shutoff flows.
                                                   Mission Magnum Impeller                           ANSI Style Impeller
Wider Impeller, Increased Re-circulation Area National Oilwell Varco's impeller design has wider vanes at the tip which decreases the velocity of the fluid exiting the impeller. This eliminates the abrasive jetting effect that is present with narrow impellers. The distance between the impeller tip and the casing is greater resulting in an increased re-circulation area. Lower velocity rates and increased re-circulation areas allow the exiting fluid to blend with the re-circulating fluid reducing turbulence and wear. The entrance shape of the impeller vanes is more tangential to the circumference of the suction creating a smoother flow pattern. Smooth flow is crucial when handling abrasive fluids.
Heavy-Duty Shaft

The shaft is much larger in diameter than conventional pump shafts for heavy-duty performance, minimum deflection and increased operating life of the seal or packing. With a 2-1/2″ diameter at the seal area and 3″ diameter between the bearings these pumps can be direct connected or belt driven.
The shaft area under the packing is protected by a replaceable, hook type sleeve with one end free to expand with temperature variation. This sleeve can be replaced in the field without shaft removal.

Highest Quality Bearings Advanced front and rear bearing design reduces both radial and thrust loads. The outboard bearing is a duplex set of angular contact bearings with high thrust load capabilities and zero endplay. This bearing set features 24 large balls that are preloaded so that each bearing carries an equal load.
National Oilwell Varco utilizes an inboard bearing that is a single row roller bearing with high radial load capabilities. This bearing was selected to replace the previously utilized double row bearing due to its engineered bearing life of over 2.2 times the L 1 O life of previously utilized double row ball bearings.
Bearing Lubrication Options
Oil or grease lubrication is available. Grease lubrication is the factory standard. Oil lubrication is recommended for pump speeds in excess of 2400 RPM. Oil lubricated pumps must be maintained in a horizontal level position.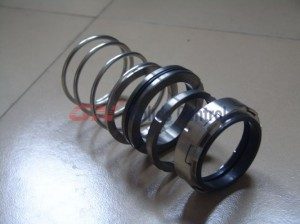 Mechanical Seal Options
A type I single tungsten carbide vs. tungsten carbide mechanical seal is standard. Tungsten carbide has proven itself as a highly abrasive resistant material with a Ph range of 7 to 14, depending on chemical composition. For applications with a lower Ph level the silicon carbide vs. silicon carbide mechanical seal is recommended with its Ph range from 0-14, depending on chemical composition. Both mechanical seals are lubricated by the fluid being transferred and require the pump to remain primed during operation.
When the pump is subject to high temperature fluids, oil base muds with low aniline points, running dry or extremely abrasive fluids, the Olympia'" cartridge type double mechanical seal is the solution. Utilizing a barrier fluid between the two seals ensures the seal faces remain lubricated even when the pump is run dry. The fluid being transferred has virtually no effect on the seal since the barrier fluid is in contact with the seal faces.
Custom mechanical seal options can be provided for specific applications.

                                                               Versatile Stuffing Box An easily removable stuffing box allows these pumps to be customized to meet customer needs. The different options available are stuffing boxes to accommodate: • Shaft packing • Single mechanical seal • Olympia •M Double mechanical seal with barrier fluid • Specialized mechanical seals
The packed box has a tapped opening to the lantern ring to allow grease lubrication or a flush line to be attached.
Dual stuffing box bolts are positioned .1 80 degrees apart to hold the stuffing box in position during casing removal. When only one stuffing box bolt is used the stuffing box remains in position on one side while the other side moves with the casing, causing the casing to bind and make removal difficult.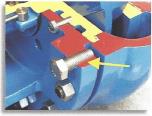 Casing Jack Bolts Casing jack bolts are an added feature to the Magnum and 2500 Supreme pump lines. Jack bolts allow the casing to be mechanically removed eliminating the need for pry bars or striking the casing during maintenance. This featuresimplifies maintenance and eliminates damage to the casing and pedestal during disassembly.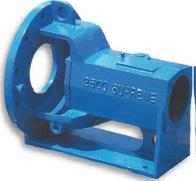 Solid Frame Base
The solid frame base strengthens the pump and eliminates broken feet that occur with pumps equipped with a split base.
Fluid End Materials
Various fluid end materials are available that allow these pumps to be utilized for a variety of applications. Standard pumps are supplied with a hard iron fluid end but can be upgraded to stainless steel, aluminum bronze, Magnachrome'"' , or Supreme Hard. These materials are available for select sizes and can be purchased as a complete or fitted fluid end.
Magnachome material is a proprietary material exclusive to National Oilwell Varco and is formulated specifically for its high abrasion resistant qualities. Magnachrome is approximately 3 times harder than Hard Iron. The Supreme Hard material is approximately 2 times harder than Hard Iron.
Technical Support and Parts Availability With locations and distributors throughout the world, National Oilwell Varco ensures our customers can obtain technical assistance and pump parts in a timely manner. Engineering support, literature and electronic manuals are available to help properly size and service equipment.
Superior Packaging and Labeling .
All parts are properly packaged to protect the equipment during shipping. The material is clearly marked to ensure our customers are getting OEM manufactured parts and allow packers and service hands to confirm they have the correct equipment without having to open the packaging and expose the equipment to external elements.
Magnum and 2500 Supreme.
National Oilwell Varco is dedicated to providing a full line of products to meet the needs of our customers. Realizing customer needs and priorities may differ, National Oilwell Varco provides two separate pump lines with like operating and dimensional characteristics. Following are the unique features of the Magnum and 2500 Supreme.
| | | |
| --- | --- | --- |
| Magnum | | 2500 Supreme |
| Open impeller design that lowers axial thrust loads and is equipped with an impeller retention bolt to ensure the pump is not damaged if run in reverse. (Impeller retention bolt is not available on 3x2x13 models.) | | Semi Open impeller design that reduces the amount of solids that enter the stuffing box extending the life of the mechanical seal or packing and the life of the stuffing box. (Available on 5x4x14 – 10x8x14 models.) |
| Lip seals and exclusion seal to retain lubricants and protect bearings from external contamination | | Labyrinth seals to offer maximum bearing protection from external contamination. Labyrinth seals rotate with the shaft eliminating shaft wear. |
| Fluid end parts available with Magnachrome corrosive and abrasive resistant material. Magnachrome impellers have a 400 Brinell hardness and Magnachrome casings and stuffing boxes feature a 600 Brinell hardness. | | Fluid end parts available with Supreme Hard material that has a 400 Brinell hardness. The standard impeller, casing wear pad and stuffing box are Ductile Iron to ensure even wear characteristics. |
| One piece casing | | Casing provided with replaceable casing wear pad on 4x3x13 – 1Ox8x14 models. |
Mission Parts Diagram
1

Thick, strong concentric casing provides extended life over conventional volute designs. The concentric design minimizes turbulence and abrasive wear.

11

Lip and exclusion seals for bearing protection

2

Wide open-vane impeller increases flow and creates lower axial thrust for improved bearing life.

12

Optional flanged bearing housing available for

hydraulic drive

3

Casing gasket recessed for protection.

13

External adjustment of impeller clearance extends

pump performance life.

4

Replaceable stuffing-box cover with dual stuffing box bolts

14

Large heavy-duty shaft reduces deflection for longer

life of packing and mechanical seals.

5

Optional stuffing boxes available for single and double mechanical seal applications and can be configured for flush lines.

15

Solid base offering rigidity and strength

6

Long-life no-adjustment mechanical seal available for near zero leakage.

16

Casing jack bolts simplify casing removal

7

Replaceable shaft sleeve prevents shaft wear.

17

Easily accessible front access drain, when requested.

8

Single row roller bearings for increased bearing life.

18

Back vanes reduce collection of solids at stuffing box and reduce box pressure.

9

Oil lubrication for bearings available upon request and recommended for pump speeds in excess of

2400 RPM.

19

Smooth impeller eye for minimum turbulence and

higher efficiency.

10

Duplex angular contact bearings eliminate shaft end play and increases bearing and seal life.

20

Anti-loosening impeller lock bolt to eliminate pump

damage in case of improper motor hook-up.
| | | | |
| --- | --- | --- | --- |
| | | 21 | Full pipe diameter entrance for minimum turbulence and maximum efficiency. |