Petol Heavy Duty Drill Pipe Tongs
The L Series Drill Pipe Tongs is the Left Picture.  The C Series Drill Pipe Tongs is the Right Picture with the clevis.
PETOL DRILL PIPE TONGS are designed for making up and breaking out drill pipe, Down the Hole Hammers, casing, and pneumatic drills on light rigs. These tongs are furnished as original equipment by rig manufacturers because of their ease in handling, quick application, and ability to withstand rugged use.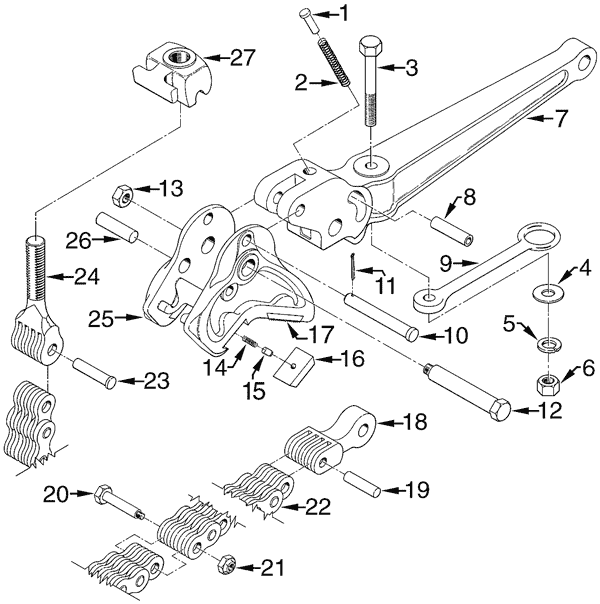 | | | |
| --- | --- | --- |
| Key Number | Item Description | Number Required |
| 1 | SPRING GUIDE | 1 |
| 2 | SPRING | 1 |
| 3, 4, 5, 6 | HANGER BOLT & NUT ASSEMBLY | 1 |
| 7 | HANDLE | 1 |
| 8 | SPRING PIN BUSHING | 1 |
| 9 | HANGER | 1 |
| 10, 11 | SPRING PIN W/COTTER | 1 |
| 12, 13 | JAW BOLT & NUT | 1 |
| 14 | INSERT KEY SPRING | 4 |
| | | |
| --- | --- | --- |
| 15 | INSERT KEY | 4 |
| 16 | BLANK INSERT | 2 |
| 17 | INSERT | 2 |
| 18 | MASTER LINK | 1 |
| 19 | MASTER LINK CHAIN PIN | 1 |
| 20, 21 | SPLICE BOLT & NUT | as required |
| 22 | SPECIAL CHAIN ONLY | 1 |
| 23 | CHAIN SCREW PIN | 1 |
| 24 | CHAIN SCREW | 1 |
| 25 | JAW | 1 |
| | | |
| --- | --- | --- |
| 26 | MASTER LINK HANDLE PIN | 1 |
| 27 | CHAIN SCREW | 1 |