Float Sub
Why Use a Float Sub?
Downtime is a killer in the drilling business. Every minute you're not drilling, you're losing money. So keep your drill rigs running properly with a quality flotation sub from the drilling product experts at NDS Drilling Supply, Inc.


What Can a Float Sub Do for You?
Do your drill rods/ pipes have damaged threads? Our Floating Subs can all but eliminate cross-threading. Ever had to rebuild the drive head on your rig? Our float subs reduce vibrations by 90% to save your bearings from wear and tear.
Whether you need your Float sub to be set up Pin to Pin, Box to Box, Pin to Box or Flange to Pin; whatever tool joints you need API (Reg, IF, FH, XH), Beco, NWJ, AWJ or MH/MHJ; we can build your float sub to your custom specifications for a perfect fit.
Choose from Our Float Sub Models:

This type of float sub is most commonly used in water well and geothermal applications. 70,000 – 80,000 lbs of hold back, up to 45,000 foot lbs of torque at 200 hp 2″ to 4″ of float 6″ body diameter.
Deep Hole Dimensions and Parts and Service


The most common use is in deep hole with increased hold back applications. Up to 110,000 – 120,000 lbs of hold back, up to 45,000 foot lbs of torque at 200 hp. 3″ of float 7″ body diameter. This unit has longer wear characteristics than the standard duty.
These float subs are most commonly used in oil and gas drilling applications. 140,000 – 150,000 lbs+ of hold back, up to 70,000 foot lbs of torque at 300 hp. 3″ of float standard, 8″ body diameter.
Seal Kits and most standard parts in stock for fast turnaround.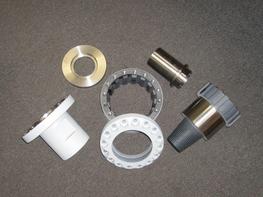 Rebuild Services Available:
Contact us for these money saving choices.